Messanges
a marvellous location, where forest and oceon meets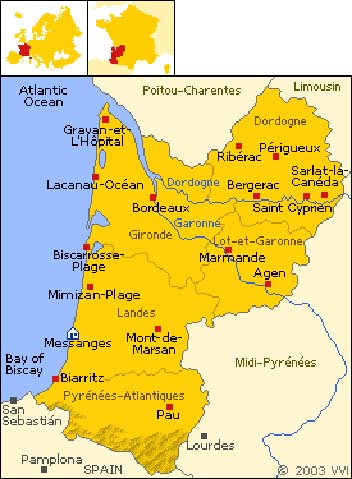 Situated in the south of the department of Les Landes (Aquitaine), Messanges offers numerous opportunities for an active as well as relaxing vacation plan-ning. The small village is located 4 km north of Vieux-Boucau and 1.5 km from the beach of Messanges-Plage. The hos-pitable village is situated in a stunning forest environment stretching over 3400 hectars and has a wonderful, wide, about 5 km long beach. The waves at-tract many surfers and surf schools to Messanges. However, the guarded parts of the beach allow for save swimming.
There are numerous tracks through the woods and along the lake 'Etang de Moisan' that invite for a walk. Separate bike paths serve for tours through the forests and along the coast to Hossegor in the south or to Leon in the north.
Other sports facilities (e.g. tennis, archery) are available at Messanges. During the summer, festivals attracting young visitors take place on weekends, but there are also traditional festivals (Sardinade with traditional folk shows) for the more mature youth. Shops for daily needs, bicycle rent, surf shops, hotels, restaurants, bars, etc. round up the hospital service of Messanges. Bigger supermarkets are available in Vieux-Boucau (4.5 km) or Soustons (approximately 18 km). More numerous sports and entertainment venues can be found in Vieux-Boucau (4.5 km), e.g. sailing, tennis, golf, but also concerts and various events. Another 18-hole golf course is located in Moliets (5 km).
| | | |
| --- | --- | --- |
| More information can be found on the Internet pages of the "Office de Tourisme" | | |